Using UBIK voicemail
Here's a short guide to introduce you to UBIK voicemail. To configure your voicemail box's emails or password, please refer to this guide.
Accessing voicemail
To access UBIK voicemail, dial *98 (or press the envelope button) on an UBIK phone. The operator will ask you for your voicemail box number (which is your extension number) and password.
If your phone system is set up with a virtual receptionist, you can access voicemail from your cellphone. Simply call your phone number and then dial *98 in the phone menu.
Note: we strongly discourage logging into voicemail in speakerphone mode.
Basic features
Once you're logged into your voicemail, you can:
Listen to your

new messages

by pressing 1
Listen to your

old messages

by pressing 2 followed by 1
Record your

unavailable message

by pressing 0 followed by 1
Record your

name

by pressing 0 followed by 3
Record your

temporary message

by pressing 0 followed by 4
Delete your

temporary message

by pressing 0 followed by 4 and then 2
Change your password by pressing 0 followed by 5
Note that you can also delete a message left in your voicemail box by pressing 7, even if the message is currently playing.
Empty voicemail
It is also possible to completely empty a voice mailbox from the UBIK Client Access. Go to extension number. Under the General tab, you will find the Empty Mailbox option.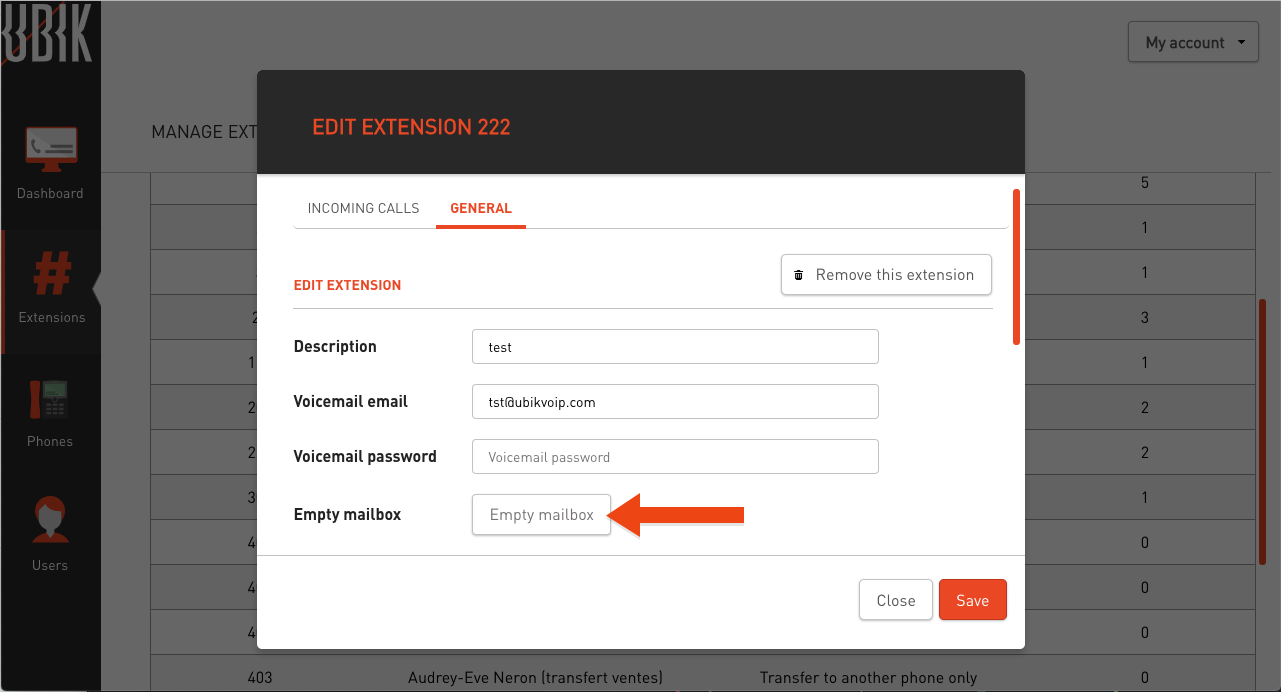 Message types
Unavailable message
If you record a voicemail greeting, it will play whenever someone reaches your voicemail unless a temporary message is recorded.
Name
If you record your name and no other message (voicemail greeting or temporary message) is recorded, it will be incorporated into the operator's message played when someone reaches your voicemail box.
Note that this "name" message, if you've recorded it, is also what people will hear in the phone directory. It's a lot nicer to hear your name spoken by a human voice than spelled out by the operator without any pauses to breathe. Right, Christopher Maximillian Montgomery Finnegan?
Temporary message
Temporary messages are very useful when you're out of the office. They're a way to record a message over your normal greeting without deleting your normal greeting or your name. Think of it as a kind of vacation message (our favourite kind, here at UBIK :P).